Volume 1, Issue 3, July-August 2020.
Garden of Desire
The designer and jeweller
Ly Pisith
Agnes Lim
The roots of Garden of Desire go back almost five decades to the violent reign of the Khmer Rouge, to when as a young Cambodian boy, I was separated from my family and forced to flee to Thailand and, subsequently, France. Years later, in my 20s and living in Paris, I battled my demons with music and art. I found solace working with my hands, making things. That soon became much more than a diversion, and I discovered my vocation in design. I studied at the Institut Universitaire de Technologie in Bordeaux and took courses in graphic art and decoration at the Beaux Art de Paris. Afterwards, for years, I worked as a product designer for Alain Mikli, Starck and other haute couture international brands in Paris. Then, my career took me to Singapore. Located so close to Cambodia, it wasn't long before I began to be submersed by thoughts of my early childhood and my first home.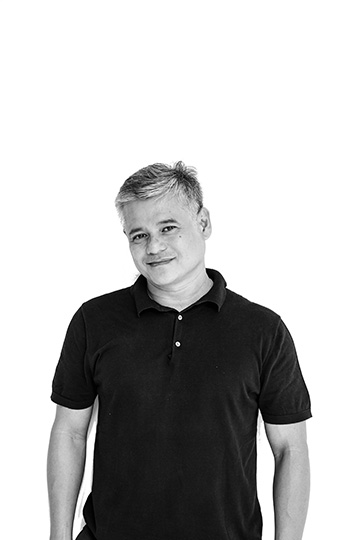 In 2007, I returned to Cambodia. I discovered much about my country that intrigued me. I learnt new things, fell in love with the old. I found myself.
In 2008, Garden of Desire was born. I wanted to tell stories about this country and its history, environment and people in silver, to help bring back Khmer silver jewellery-making, but with contemporary expression. I set up a workshop staffed with a team of young artisans, and a boutique in Siem Reap. Not long ago, we set up a second gallery based in Phnom Penh.
Always, inevitably, I create pieces that are innately linked to my Cambodian roots, that celebrate our built, natural and cultural heritage. For it is good to be home.
Ly Pisith, founder and designer
Our Desire for Silver
What is it about silver that draws us?
Across many cultures exist legends about the magical qualities of silver… its supernatural ability to ward off evil (as well as vampires and werewolves), its purported healing properties in ancient alchemy, its rumoured ability to detect poison, its folkloric incorruptibility, its mystical connection to the moon…
Then there's its sheer beauty… its pure, bright sheen unmatched by any other metal, its powerfully sensual, tactile allure. Worn against the skin, silver feels cool. Yet it gradually warms to the touch, alive and responsive, becoming as if one with the wearer.
These qualities, both material and mythical, render silver timeless, destined to be forever desired. The fact is: silver fascinates mankind and always will.
Our Workshop: the Art of 'Making'
Silversmithing is an ancient art that spans centuries and cultures. In Cambodia—where silver has long been the country's most precious metal—the art of silversmithing is more than 1,000 years old. It peaked in the 11th century during the Angkor empire and, eight centuries later, plunged into decline during the brutal Pol Pot regime in the 1970s and the economic crisis that followed. Fortunately, in recent decades, as the country has continued to rebuild itself, Khmer silversmithing has made a comeback, with local artisans and jewellers revitalising age-old artistic traditions in the crafting of silverware and silver jewellery. Garden of Desire is one such jeweller.
In choosing silver as his primary medium of expression, the brand's founder-designer Ly Pisith has selected not only a historic material, but one with unique transformative qualities. Some of his pieces, brightly polished to a high sheen, give off a hard, metallic blaze. Others have a soft, subtle patina reminiscent of antique Khmer silverware. All of them are created at Garden of Desire's Siem Reap-based atelier by Pisith and his team of highly-skilled artisans.
The team uses methods that treat their regionally-sourced materials—955 fine silver, 925 sterling silver, 18K gold, local sandstone and semi-precious stones—with respect. For the best possible results, modern-day or regional silversmithing processes are sometimes utilised to complement traditional, local techniques. Mostly, Pisith and his team use a combination of methods such as casting, carving, assemblage, hammering and polishing. Often, pieces are created using the ancient and widespread lost-wax casting method in which a design is first hand-carved in wax, then imprinted by the setting of a mould around the wax carving which melts away, culminating in molten silver being poured into the mould and allowed to set. Local, traditional hand-working techniques such as hammering and punching further shape and texture the silver items individually. Each piece's various components are often also soldered into shape, then assembled by hand, filed to finetune their form, and then polished. Lastly, selected items are additionally set with semi-precious stones and grey sandstone pieces hand-carved by a specialist sandstone carver. Throughout the processes of making, as Pisith and his artisans hand-work each piece, they take care to shape each one to the human body. A good, comfortable fit that feels snug yet light to the touch is important to the team. They make items in limited quantities—from sketch to prototype to finished product. Simple tools, techniques and materials are used. But the objects created are ultimately compelling and meaningful works of wearable, desirable art.
KHMER collection
The KHMER collection pays homage to the lost kingdom of Angkor and its ancient temples.
Located deep in the jungles and rice fields of Siem Reap province, Angkor was once the thriving capital city of the Khmer Empire during the 9th–15th centuries. At the time, it was the largest urban settlement in the world, a megacity with a sophisticated infrastructural network and advanced water management system, and over 1,000 Hindu and Buddhist temples. Spanning over 400 sq km, Angkor is today a sprawling, UNESCO-protected site of stone ruins whose former glory is best recalled by its most famous temple complex, the Angkor Wat. Besides its vast, majestic structure, the temple's greatest marvel is the extensive gallery of bas-reliefs on its first level. These wall carvings made on the temple's inner sandstone walls exquisitely detail scenes from Hindu epics, the Mahabharata and the Ramayana, as well as historical Angkorian warfare.
In the KHMER collection, Angkor's monumental architectural legacy is represented by inimitable legacy pieces inspired by Angkor Wat's structure, sandstone walls, tall columns and intricate bas-reliefs. Crafted in sterling silver and locally-sourced grey sandstone, the pieces are solid and timeless, made to last a lifetime and beyond.
Khmer Silver Bangle with Grey Sandstone is inspired by the simple beauty of the kbach chan, the iconic decorative flower motif used in traditional Khmer decorative arts and architecture.
Handcrafted in sterling silver, this bangle takes 7 days of hand-working by a single silver artisan, forging and hammering the silver into its shape. The sandstone chan (flower) elements are separately hand-carved by a sandstone carver from locally-sourced grey sandstone blocks.
Khmer Necklace in Silver and Grey Sandstoneis inspired by kbach, traditional decorative elements in Cambodian architecture. The kbach chan, or decorative flower motif, in particular, takes shape in various simple forms, delicate but strong.
Handcrafted in fine silver over 12 days by a single silver artisan, the necklace is painstakingly hand-worked right down to its individually handmade link chains, and features locally-sourced grey sandstone flower pieces hand-carved by a specialist sandstone artisan.
Khmer Silver and Grey Sandstone Earringsare inspired by kbach chan, traditional decorative flower elements in Cambodian decorative arts and architecture, carved in relief on the walls and columns of Angkor's temples as well as on traditional Khmer silverware.
Handcrafted in sterling silver by a silver artisan, with sandstone elements separately hand-carved by a sandstone carver from locally-sourced grey sandstone, the earrings dangle from the earlobe, beautifully tipped by the simple chan motif.
info@artsofsoutheastasia.com