The International Magazine of Arts and Antiques of Southeast Asia
Volume 1, Issue 4, September–October 2020.
Contents
EDITORIAL
by Dr. István Zelnik
The Gold Kosa of Phu Long
by Prof. Dr. Ngo Van Doanh
The Mysterious Durga Statue of Thap Ba Temple
by Prof. Dr. Ngo Van Doanh
A Century of the Da Nang Museum of Cham Sculpture
by Vo Van Thang
Vietnam-Cham Acculturation
by Prof. Dr. Cao Xuan Pho
The Mukhalinga of My Son
by Prof. Dr. Ngo Van Doanh
An Exceptional Cham Gold Collection
by Jean-Françoi Hubert
Excerpts from Chinese Sources on Cham Cloth and Jewellery
by Marton Nagy
Nguyen Trinh Thi: Letters from Panduranga
by Dr. Carolin Ha Thuc
Selected Cham Artifacts from an Important European Collection
by Janos Jelen
BOOK REVIEW
INDEX OF ADVERTISERS
PREVIEW
Arts of Southeast Asia, Volume 1, Issue 5:
The Art of Gemstone Beads in Myanmar
Esteemed Reader,
It gives me great pleasure to bring to your attention this, the fourth issue of the new international art magazine,

Arts of Southeast Asia

, which was launched earlier this year. It is intended to bring the art of Champa, so little known around the world, closer to the interested reader.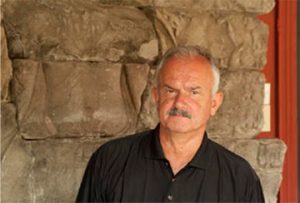 Champa was a mystical state, formed through an alliance of kingdoms, that functioned between the eighth and nineteenth centuries, wedged between the expanding Dai Viet and the Khmer Empire. The combination of Hindu and Buddhist influences created a fascinating culture with outstanding architecture, sculpture, goldsmithing art, and Sanskrit-based hieroglyphic writing that was preserved for posterity on stone steles. Many significant monuments from this lost culture, its temples and holy places, have survived in what is now Central and South Vietnam, including the My Son temple complex renowned as a World Heritage Site. Unfortunately, a significant portion of Cham cultural heritage was destroyed by American bombing during the Vietnam War. The most significant Cham artefacts—masterpieces made of stone, bronze, gold, silver and ceramic—have been preserved at the Hanoi History Museum, the Da Nang Cham Museum and the Ho Chi Minh City History Museum.
I enjoyed the great privileges of visiting the historical sites of the Cham kingdoms, including My Son and Po Nagar, under the expert guidance of the world's leading Cham scholar, the historian Prof. Dr. Ngo Van Doanh, and of having the masterpieces of Cham sculpture shown to me by the director of the Cham Museum in Da Nang. I grew especially fond of the world-class art of the Cham goldsmiths, which exhibits an extremely high level of professionalism and technical skill, a range of ritual objects made of silver and gold, Shiva and Buddha statues, Lingam and Yoni, symbols of fertility, and fantastic court and tribal jewellery and functional objects.
So it is that in one article

Arts of Southeast Asia

is presenting one of the largest collections of Cham gold and silver objects in the world, published for the first time in an art journal.
Jean-Francois Hubert, the most renowned Cham expert in the Western world and author The Art of Champa—considered a masterpiece to this day—characterises Champa in the following way: Evoking Champa means glorifying death, sanctifying remnants, magnifying clues, singing the praises of mourning and reconstructing history. Champa only exists now in the memory of a diminishing collection of living people who desire eternal life, in a half audible melody—necessarily exotic— that is hummed by a few disquieted spirits. (The Art of Champa, 2005 p.7)
Dr. István Zelnik
President of the Editorial Board
The Gold Kosa of Phu Long
Prof. Dr. Ngo Van Doanh
A representative of the Quan Nam Provincial Museum announced, at the XXXIII Vietnam Archaeological Conference, that the gold head of a Shiva statue had been found while searching for scrap metal in Phu Long (Dac Loc, Quang Nam). The statue is 24 cm high and weighs 0.58 kg, with a conical head disk, which is twisted twice at the top. The cone is divided into four segments which were made separately, and then fixed to the top of the head by bending the rim back into the head. There is a third eye in the centre of the forehead that is aligned vertically, while the two main eyes are set slightly oblique on either side of the tip of the nose…
The Mysterious Durga Statue
of Thap Ba Temple
Prof. Dr. Ngo Van Doanh
King Sri Indravarman III installed a golden image of the goddess Bhagavati at the Thap Ba Temple in 918 CE, we are told by a stele inscription at Po Nagar:
In the year of the Sakas denoted by 'vyoma-amburasi-tanu' [840 Saka], on Sunday, the eleventh day of the dark fortnight of the month of Suci [Jyaistha or Asadha], he [Indravarman III] installed a golden image of the goddess Bhagavati in order to gain fame around the whole world.
The inscription also praises King Indravarman:
A Century of the Da Nang Museum of Cham Sculpture
Vo Van Thang
Đà Nẵng is a port city in Central Vietnam. Historical documents and ancient relics that have been found in the vicinity of Đà Nẵng show that the area was occupied by the people of the ancient kingdom of Champa from the early centuries of the first millennium to the fourteenth century CE.1 In the French colonial era, before World War II, the city was known in French as TouraneSome of the buildings from French colonial times can still be seen today in Đà Nẵng, the most special of them being the Musée Cham (Cham Museum), which was built in 1915 in the jardin de la ville de Tourane, on the scenic bank of the Hàn river…
The Mukhalinga of My Son
Prof. Dr. Ngo Van Doanh
The discovery of a sandstone Mukhalinga, which had been exposed through high-pressure water washing, on the surface 10 metres east of the E4 temple at My Son was announced by the My Son Historic Memorial Zone Inspection Agency on November 15, 2012. This 126.5 cm high work of art was found almost completely intact.
The Mukhalinga resembles a traditional linga, consisting of three parts of equal height (42cm each) and the same width. The base of the lowest part has a square cross-section (Brahmabhaga), with each side 41.5cm in length…
Editorial Board
Dr. István Zelnik, Editor, President of the Editorial Board
András Mészáros, Director – International Relations
Dr. Philippe Smolarski, Asian and Far Eastern Art
Dr. Susan Conway, Arts of Southeast Asia
Róbert Kuszinger, IT Support
Miklós Sulyok, Photos
Csilla Bogdán, Graphic Design
László Dinea, Website Support
Michael James Webb, Executive Editor
Index of Advertisers – ARTS of SOUTHEAST ASIA:
Issue 4. Arts of Champa
Galerie Zacke, Wien, Austria
Michel Leclerc, Belgium
Julius Art, Hungary
From the Collection of Dr. Zelnik, Switzerland
Ogotai Asian Art, Belgium
Din Sarom Asian Art Gallery, Belgium, Belgium
Udom Chay Asian Art, Cambodia
Chantas Prou Gallery, Cambodia
Khmer Art – Modern Cambodian Painting, Cambodia
Natural Art Gallery, Cambodia
La Galerie Insolite, Cambodia
info@artsofsoutheastasia.com