The International Magazine of Arts and Antiques of Southeast Asia
Volume 1, Issue 5, November-December 2020.
Contents
EDITORIAL
by Dr. István Zelnik
The Journey through Beads from Prehistory to the Pyu States in Myanmar
by Terence Tan
Gemstone Animal Talismans in Burma
by Dr. Susan Conway
Gemstone Objects from Burma: gemmological tests and investigation of production technology
by Dr. József Takács
X-ray Testing Results for the Burmese Gold Beads
by Judith Horváth
George Groslier's 1930 Visit to the Gemstone Capital: Pailin
By Kent Davis
Masterpieces of Burmese Gemstone Zoomorphic Talismans Amulets
by Dr. István Zelnik
BOOK REVIEW
INDEX OF ADVERTISERS
PREVIEW
Arts of Southeast Asia, Volume 1, Issue 6:

The Art of Gemstone Anthropomorphic Talismans in Myanmar
It gives me great pleasure and a certain amount of satisfaction to inform you that the fifth issue of on this occasion deals with a very special topic: the first two millennia of Burmese gem-cutting history, from the Samon Valley culture of 800 BCE through the end of the Pyu Kingdoms in the tenth century.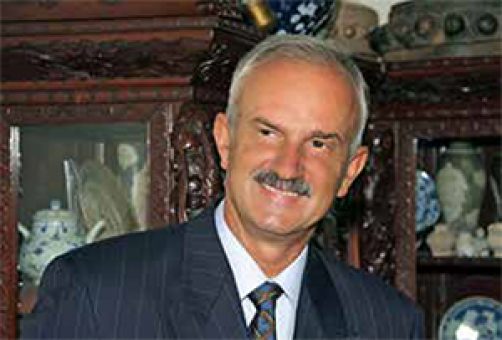 For thousands of years, Burma has been renowned for its wealth of gemstone deposits: jade stone, jade, ruby, emerald, agate, aventurine quartz, rock crystal, tourmaline and onyx to name just the most widely known. These have been used to make utensils and ritual objects, including talismans and amulets with healing and protective powers, and jewellery. Recently published studies and albums have shown how the cultural influences of India and Tibet have affected local beliefs and religions, including animistic rituals and the development of relics that have evolved Arts of Southeast Asia has been published, and q over some three thousand years into the present day, and incorporates talismans and a cult of amulets that has spread throughout Asia.
We shall reveal to you ancient secrets in the manufacture of talismans and amulets from precious stones, and introduce you to the extremely high craftsmanship and sophisticated artistic taste that these objects represent.
Talismans and amulets made of Burmese gemstones can be divided into four categories: animalshaped, human-shaped, breastplates or pectorals, and finally beads. The latter two categories can also be used as jewellery.
Through an excellent study by the Hungarian gemmologist Dr. József Takács, you can become acquainted with the various types of Burmese gemstone, the techniques and tools used in gemstone cutting and processing, which have been used in Burma for thousands of years.
Some wonderful material from the Burmese-American archaeologist and gemmologist Terence Tan gives a detailed overview of the historical development of Burmese gemstone talismans and amulets, and the art and culture of the Samon Valley and Pyu.
Finally, to complete the illustration properly, you can acquaint yourself with the world's largest collection on the subject, the result of decades of conscientious acquisition. The collection is located in Switzerland and has been published in four scholarly texts. Enjoy this extraordinary, precious piece of time travel!
Dr. István Zelnik
Editor, President of the Editorial Board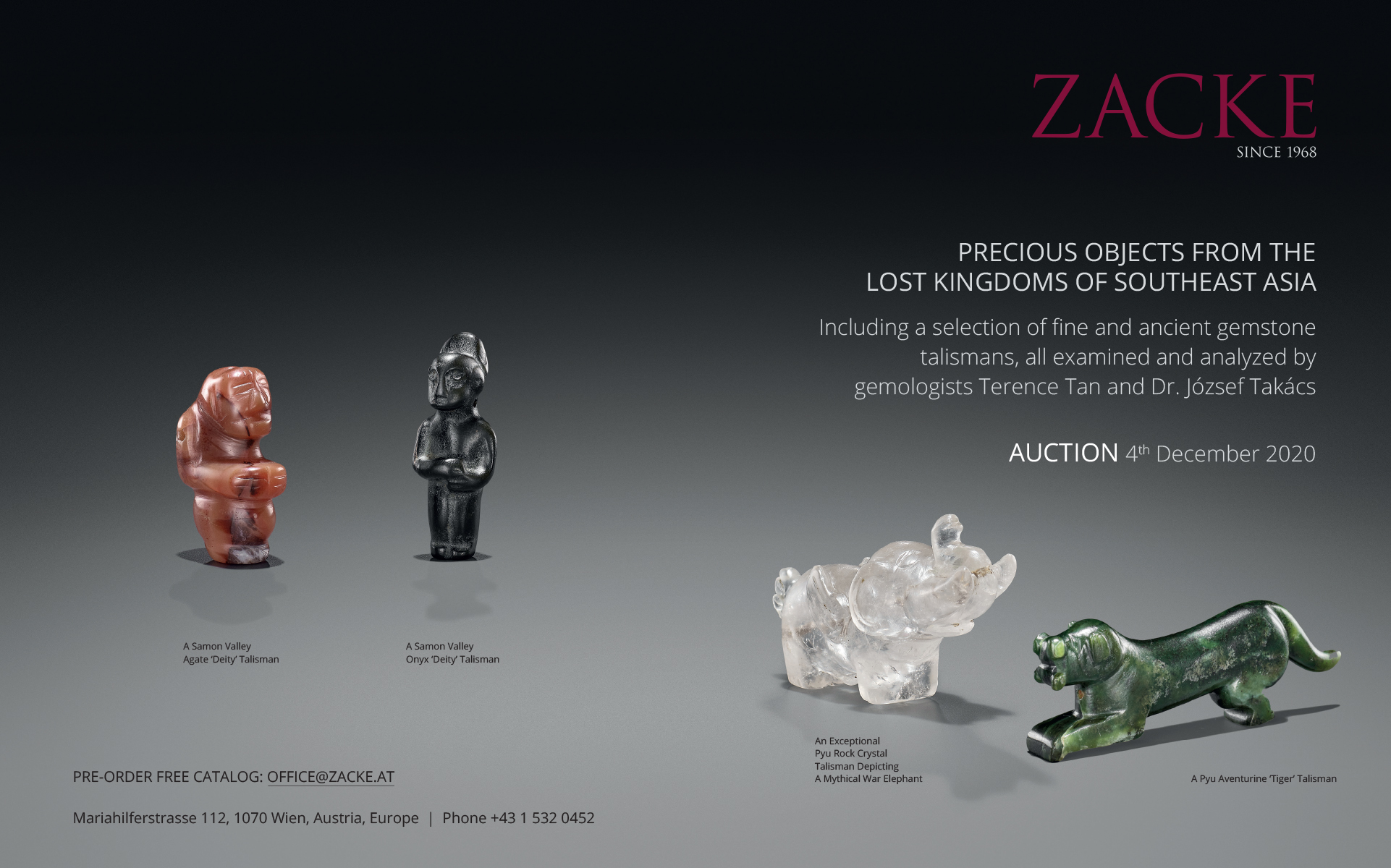 The Journey through Beads
from Prehistory to the Pyu States in Myanmar
by Terence Tan
From the Transition Period (The Bronze-Iron Age – circa 700 BC-200 BC) to the Iron Age (circa 400 BC-200 AD)
INTRODUCTION
The transition period in which the Bronze Age shift ed to the Iron Age is most commonly referred to in Archaeology as the Bronze-Iron Transition Age (900 BC to200 AD). In the later part of the Bronze Age, people travelled further, explored new regions, and made new discoveries. It is a common belief among historians that travellers and traders from Greece, Rome, Mesopotamia, Asia Minor, Central Asia, India, China and East Asia travelled to the Southeast Asian countries via land and sea routes. At that time, people in what is today's Myanmar were still in the Bronze Age.
Gemstone Animal Talismans
in Burma
by Dr. Susan Conway
This article features animal talismans from the collection of the Zelnik István Southeast Asian Gold Museum in Budapest.
They originate from Upper, Middle and Lower Myanmar (Burma) and are dated to the BronzeIron Transition Age (900 to 200 BCE) and to the Pyu Era (200 to 1000 CE) when Buddhist culture flourished in the Irrawaddy River basin. Talismans imbued with magical properties are a feature of all belief systems. 1 They are displayed openly and activated during rituals or kept secret, hidden from public gaze.
Gemstone Objects from Burma
Gemmological test and Investigation of Production Technology
by Dr. József Takács
In the past year, we have examined a thousand or so Burmese gemstone objects at the Department of Mineralogy of the Eötvös Loránd University and at the Hungarian Southeast Asian Research Institute.
Our objectives were to:
– Identify the materials used
– Establish the techniques used in their production
– Determine whether they are authentic, ancient pieces
– Identify fakes, copies and objects that have been repaired
– Determine whether the objects have undergone any modifi cation in modern times
– Describe and document the information obtained about the objects (several thousand micrographs were taken in order to document our work)
Editorial Board
Dr. István Zelnik
, Editor, President of the Editorial Board
Dr. Philippe Smolarski, Asian and Far Eastern Art
Dr. Susan Conway, Arts of Southeast Asia
Róbert Kuszinger, IT Support
Miklós Sulyok, Photos
Csilla Bogdán, Graphic Design
László Dinea, Website Support
Michael James Webb, Executive Editor
András Mészáros, Director – International Relations
Index of Advertisers – ARTS of SOUTHEAST ASIA:
Volume 1. Issue 5. The Art of Gemstone Beads in Myanmar
Galerie Zacke, Wien, Austria
Julius Art, Hungary
From the Collection of Dr. Zelnik, Switzerland
Ogotai Asian Art, Belgium
Din Sarom Asian Art Gallery, Belgium
Udom Chay Asian Art, Cambodia
Natural Art Gallery, Cambodia
La Galerie Insolite, Cambodia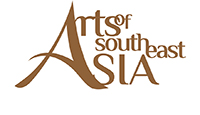 The Unique International Magazine ofArts and Antiques of Southeast Asia
ORDER FORM
Note: for airmail delivery to Europe add 9. – EUR,
for delivery to America, Asia and Australia, please add 14. – EUR
Payment only by bank wire to the account of:
ARTS of SOUTHEAST ASIA
KBC Bank SA Avenue du Port 2, 1080 Bruxelles, Belgium
IBAN: BE 12 7360 6155 9092
BIC/SWIFT: KREDBEBB
info@artsofsoutheastasia.com