The International Magazine of Arts and Antiques of Southeast Asia
Volume 1, Issue 3, July-August 2020.
Contents
EDITORIAL
by Dr. István Zelnik
Chhim Sothy – A living Icon of the Contemporary Art
Interview with the famous designer and sculptor Sopheap Pich
by Reaksmey Yean-George
The Landscape in the Art of Ky Sam Ang
The Garden of Desire – the designer and jeweller Ly Pisith
by Agnes Lim
Batia Sarem Gallery – and the exhibitions with the artists Svay Saeth, Yim Maline, Khvay Samnang and Sovan Philong
by Lyvann Loeuk, Yves Zlotovsky, Martin Phéline and Caroline Ha Thuc
Buddha Images in the Modern and Contemporary Art
Contemporary Art of Silk in Cambodia
Din Borin's Abstarct Painting – The Din Art Gallery
by Marissa Corruthers
The 'First' Research-based Artworks in Cambodia
by Dr. Caroline Ha Thuc
Sra'Art: The Vision of Phnom Penh's Commercial Art Gallery
Book Review
Preview
Arts of Southeast Asia Volume 1 Number 4:
Arts of Champa
Esteemed Reader, I would like to share with you my pleasure in bringing to your attention the third issue of this new international art magazine, Arts of Southeast Asia, launched earlier this year, and a novelty on the international art magazine market. This issue is the first of the Asian art magazines to cover the full scope and range of a field of art that has, until now, almost entirely escaped international attention: contemporary art in Cambodia.
Our ambitious plan is to introduce you to the Cambodian contemporary art scene, which we consider to be so new, so exciting, so colourful and creative that this issue is only the first in a series.
However, we don't just want you to come to know and love it, we also want to promote these predominantly young artists by publishing albums and organizing European exhibitions. It is well known that in the European sense, modern art was born here in the mid-1920s at the Indochina College of Fine Arts that was founded by Victor Tardieu in French Indochina with the intention of introducing western art and techniques, and with that the journeys of a new generation of Western artists began.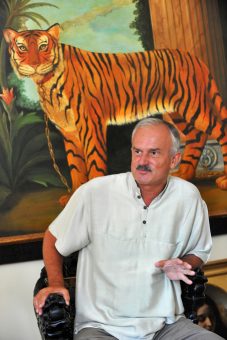 However, the cruel winds of history have meant that the emergence of modern and contemporary art in Cambodia has been very slow and difficult, with many losses and tragedies. The struggle for independence against colonial rule, the Indochina war with America, the Khmer Rouge regime and the ensuing civil war shattered this process and destroyed artists, so now the world can only meet the works of the third and fourth generations. The work of previous generations is almost entirely lost, with hardly any works of art surviving from the 1930–2000 period. In this current issue of Arts of Southeast Asia, we feature several artists who spent time in the Khmer Rouge labour camps as children but, due to lucky circumstances and selfless international assistance, escaped from refugee camps into the West, to the United States and France before returning to their roots in Cambodia as adult artists.
There is so much to be found in the now very diverse modern and contemporary art of Cambodia: the traditional line of the glorious historical past and the revival of classical traditions (Angkorian landscapes, modern depictions of the Buddha, mythical gods), the quest to revitalize traditional Khmer art in Cambodian contemporary art, a return to nature and the embracing of its values, but at the same time modern trends that present human and social problems, traumas, dangers and the search for new ways that point in new directions, too. Revel in this rare cultural-artistic outlook!
Dr. István Zelnik
Editor, President of the Editorial Board
At the Roots of the Art of
Sopheap Pich
An Interview with Sopheap Pich by Reaksmey Yean-Georges
"My technique is almost so simple that they shouldn't call it a technique," sculptor Sopheap Pich talks about the formulation of his works as we sit beneath a tamarind tree discussing his career; strong waves of warm, heated wind push in at intervals, while the artist sits on a wooden stool with his legs crossed, cradling a mug of tea in his lap. Known for his use of bamboo and rattan, materials found in abundance in tropical Cambodia, Pich maintains that his intricate and strenuous sculptural beings are not intended to "show any complications," but to just simply "create form".
While Phnom Penh bids its final farewells to that icon of the Royal Ballet, the late HRH Princess Norodom Bophadevi, I have travelled thirty kilometers northeast of the city on National Road 6A to Pich's studio-cum-residence in Prek Anh Chanh village. Once through the two-hectare property of reclaimed rice-fields, now covered with luxurious, tropical woods…
Garden of Desire
the designer and jeweller
Ly Pisith
by Agnes Lim
The roots of Garden of Desire go back almost five decades to the violent reign of the Khmer Rouge, to when as a young Cambodian boy, I was separated from my family and forced to flee to Thailand and, subsequently, France. Years later, in my 20s and living in Paris, I battled my demons with music and art. I found solace working with my hands, making things. That soon became much more than a diversion, and I discovered my vocation in design.
I studied at the Institut Universitaire de Technologie in Bordeaux and took courses in graphic art and decoration at the Beaux Art de Paris. Afterwards, for years, I worked as a product designer for Alain Mikli, Starck and other haute couture international brands in Paris. Then, my career took me to Singapore. Located so close to Cambodia, it wasn't long before I began to be submersed by thoughts of my early childhood and my first home.
Din Borin's
Abstract Painting
Din Borin is one of the most important abstract painters in Cambodia. This young, self-taught artist has no art education, yet in the astonishingly short period of 10 years he has become the most popular and well-known abstract painters in Cambodia and earned himself an international reputation.
On the 5 June 2020, he declared: "I am proud of my work and have comitted my talents to depicting images from Cambodian culture, religion and society, including those relating to homosexuality".
There are two tendences to note in Dins Oeuvre: one is the inspiration by and abstract expression of cultural and religious heritage…
The 'First' Research-based Artworks in
Cambodia
Dr. Caroline Ha Thuc
The question of who the first artists were to engage in research-based art practices in Cambodia revives the debate about which contemporary artwork was the first to be produced in the country; which is a moot point in any case, since there is no clear definition of what contemporary art actually is. In Cambodia, the concept of contemporary art remains an "amorphous conception" and Pamela Corey showed how three distinct artists, Leang Seckon, Vann Nath and Sopheap Pich, can all claim to be "the first Cambodian contemporary artist"…
Editorial Board
Dr. István Zelnik
, Editor, President of the Editorial Board
Dr. Philippe Smolarski, Asian and Far Eastern Art
Dr. Susan Conway, Arts of Southeast Asia
Róbert Kuszinger, IT Support
Miklós Sulyok, Photos
Csilla Bogdán, Graphic Design
Michael James Webb, Executive Editor
András Mészáros, Director – International Relations
Index of Advertisers – ARTS of SOUTHEAST ASIA:
Issue 3. Modern and Contemporary Art in Cambodia
Galerie Zacke, Austria
Michel Leclerc,, Belgium
Ogotai Asian Art, Belgium
Julius Art, Hungary
Udom Chay Asian Art, Cambodia
From the Collection of Dr. Zelnik, Switzerland
La Galerie Insolite, Cambodia
Din Sarom, Belgium
Chanras Prou Gallery, Cambodia
Natural Art Gallery, Cambodia
info@artsofsoutheastasia.com